Top 10 Jackpots of All Time from Online Casino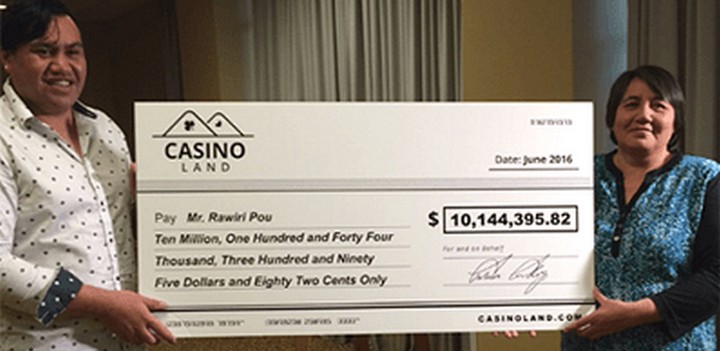 Online casino gambling is pretty fun hobby, especially if you hit the progressive jackpot games. Regardless if it is on slots, table games, blackjack or video poker, there are many lucky players that have hit pretty large jackpot. life - changing amounts and live to narrate their amazing stories. The excitement of hitting a progressive jackpot winning combination of symbols at slots or getting the rarest hand in blackjack right from the comfort of your home has never been greater.
10. $ 7.41 million jackpot in the Mega Moolah slot, player got from New Zealand
Friday, 17th of June, 2016 is a day that Rawiri Pou from New Zaeland won't ever forget. Namely, the young Maori man was playing the progressive slot machine Mega Moolah at Casinoland when he was surprised with a mouth-watering win of NZ$10,144,395.82 ($7.41 million). While a spokesman for the casino highlighted that the whole team was thrilled for their player, Rawiri seemed pretty shocked by everything that took place. He said that he and his family were all overwhelmed and happy. When asked how he plans to spend the impressive amount of money, the lucky player said that he would like to spoil his family. Rawiri's win was extremely important for Casinoland because it was the first one the operator has recorded ever since its launch in 2015.
The jackpot was triggered in the afternoon on June 17, 2016 (Central European Summer Time).
9. $ 7.86 million jackpot from the Dark Knight received a player from Australia
On 8th of April, 2016, an Australian player that remained anonymous scooped a massive AU$10,423,223 (around $7.86 million) jackpot on Microgaming's the Dark Knight slot. This game used to be part of the Mega progressive jackpot network, which includes the incredibly popular Mega Moolah slot. The lucky player was enjoying the blockbuster-based slot at Spin Palace Casino. Dark Knight is based on the movie under the same title and features 5 reels; the slot offers players 243 ways to win and four progressive jackpots: Mini, Minor, Major and Mega. Even though the Mega jackpot always starts at lucrative $1 million, the Aussie had the luck to hit it high above that mark.
Update! As of June 27, 2016, the The Dark Knight slots series from Microgaming have been discontinued due to licensing issues.
The Dark Knight slot machine features some of the main characters from the blockbuster movie.
8. $ 8.6 million from Mega Moolah Slot at River Belle Online Casino received player from Greece
Mega Moolah progressive jackpot slot by Microgaming software provider is quite famous in the online casino world. The game has given millions to lucky winners from all parts of the globe. Georgios M is one of the many lucky players that have hit pretty large amounts. In March 2009, Georgios won €6.3 million ($8.6 million) in cash at River Belle Online Casino. With a passion for slots, the 36 year old business owner from Greece has become the winner of the largest Microgaming casino jackpot payout. Georgios could not believe that this was for real. "Do not lose hope; it's a small moment that could change your life," he said.
7. Woman from Sweden has become the winner the Hall of Gods slot game at Unibet Online Casino and got 7.6 million Euros
A lucky woman became the biggest online casino jackpot winner in Sweden in November 2012. She won €7.6 million playing the Hall of Gods slot game at Unibet Online Casino. After the win she was a bit dazed and couldn't believe it. With the winnings she was planning to pay off her house and loans and take her family to Thailand. "And I might even get a new car," added L. who is now living the dream everyone has. This was the biggest win ever at Unibet Casino. The lucky woman at that time was the fifth player to join the casino's 'millionaire's club' since 2009.
6. € 7.82 million received the anonymous player of slot machine Hall of Gods
Hall of Gods has paid a record-high progressive jackpot of €7,820,888 ($8.73 million) to a Betsson Casino player. The winner has chosen to stay anonymous and there are no information regarding their gender, age or location. However, the large amount won on 18th of April, 2015 will probably stay remembered for a long time. Even though NetEnt's Nordic-themed slot machine Hall of Gods has been treating players with multi-million prizes, as of this writing no one managed to win anything over €7.82 million. Read our review for more information about this epic slot game from NetEntertainment.
Since its introduction in 2010, the game Hall of Gods from Netent, has created many instant millionaires.
5. $ 8.82 million Largest Progressive Jackpot won on a Mobile Device on the Mega Moolah Mobile
A mysterious player under the initials D.P. on 28th of August, 2016 has won he largest progressive jackpot ever hit on a mobile device. It was never revealed where does the player come from or how old he or she is. However, what it is known is the impressive jackpot amount of 7.9 million euros ($8.82 million). Reportedly, the user was enjoying Mega Moolah Mobile on an iPad device at Zodiac Casino, when the jackpot was hit. As was revealed by the operator, the player was signed up to the casino's innovative promotion named 80 Chances to Become a Millionaire, which required only a small £/$/€1 deposit. D.P. certainly made the most out of it!
4. $ 9.57 million for Alexander from Sweden on the Mega Moolah Slot
Mega Fortune Mega seems to be NetEnt's Mega Moolah. This generous slot machine has recorded numerous wins over the years, but one of the highest ones was scored on 28th of November, 2015 at Folkeautomaten. The lucky player Alexander from Sweden was only 30 years old at the time of the win, when the game treated him with €8,577,204 ($9.57 million). Commenting on his luck, the player revealed that he was speechless at first and then he woke up his wife to celebrate. Alexander said that he was planning to lay low, pay his mortgage and probably treat himself with exciting holidays and a new car. NetEnt's Chief Product Officer Simon Hammon didn't miss the opportunity to highlight that the company paid more than €13 million in jackpots in less than two weeks.
3. 11.7 million Euros won a man from Norway on Mega Fortune Slot and it was entered into the Guinness Book of Records
A young man from Norway couldn't sleep and decided to play a few games at online casino company Betsson.com. On that sleepless night on 24 September 2011 he became 11.7 million Euros richer or €11,736,375 to be exact. The game that set the Guinness World Record for the largest ever jackpot payout in an online slots game is called Mega Fortune. The anonymous player couldn't sleep until 6:00 am because of the shock and he said that he needs to calm down first before he decides what to do with the money. Huw Thomas, the Head of Betsson.com, was also in shock and he added that is a great accolade for the website to be awarded a Guinness World Record.
2. £ 13.2 million for player from UK and it was entered into the Guinness Book of Records too
Everyone knows that Mega Moolah Progressive Jackpot is one of the most rewarding games out there. Jonathon Heywood from Cheshire, the United Kingdom, has felt its generosity on his skin when he landed a whopping £13.2 million (approximately $17.2 million) jackpot. The 26-year old British soldier won the record-breaking jackpot on 6th of October, 2015, while he was playing for 25p per spin. After the win, Jonathon said that everything felt surreal and that he couldn't come to terms with the win. But he has vowed to spend most of that money to helpt treat his sick father. The jackpot was hit at Betway and a casino representative expressed their delight for the record win. Even Microgaming's CEO Roger Raatgever congratulated the winner and pointed out that to that date the provider had paid out half a billion euros. In addition to lots of cash, this win has earned Jonathon a Guinness World Record too.
1. $ 24 million jackpot for player from Finland on the Mega Fortune Slot
Definition of luck- to bet 25 cents and to win €17,861,800 (around $24 million). The win took place on online casino gaming site PAF based in Scandinavia and it was hit by a lucky man in his 40s from Finland. "I laughed and cried at the same time," said the winner. He placed a 25 cent bet on January 20, 2013 on the progressive jackpot slot game Mega Fortune operated by the software company Net Entertainment. The different Net Entertainment partner casinos that offer the progressive jackpot games make up the jackpot pool of the game and these funds are used to pay the jackpot winners. The win, of course, came as a surprise and the Fin couldn't believe it. It was a dream come true.