Tattoos are Symbol of Gambler's Lifestyle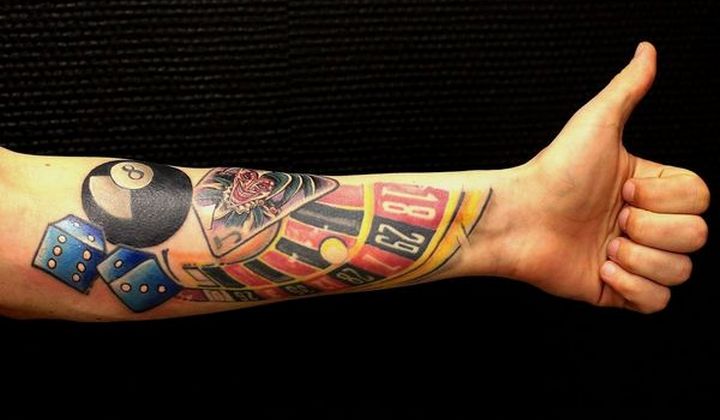 A tattoo is a popular kind of body art. For gamblers tattoo is a opportunity to show the main essence of them life. Gambling tattoos are representative of a person who likes taking risks, someone who loves the thrill of living on the edge, and someone who has lady Luck on their side.
Popular casino games can be exciting when under control, and for many it represents a way of life that is more thrilling than working any regular job. Poker players or gamblers on video slot machines in particular only know one way of living, and that is on the edge where they might be forced to put everything in the center of the pot to either win or lose it all.
Gambling tattoos are representative of good fortune and luck, or it could be that this person just has a love for everything that has to do with gambling. In this case, it in common to get inked with a 21 in Blackjack, a winning combination on the slot machines, or 7 and 11 in craps, roulette wheels, and usually smoking guns.
The Meanings of Gambling Tattoos
The overall association with gambling tattoos is that of luck, money, and the thrill of the unknown. These tattoos can be drawn with playing cards surrounded by flames, aces and eights representing the dead man's hand, or a heart surrounded by dice and the words not to gamble with love.
Gambling Tattoo Dictionary
Ace of Spades: the ace of spades is a unique tattoo design, a casino symbol of both good luck and death. For the Americans, Ace of spades is a symbol of good luck.
Cherries: as one of the original online slot machine symbols, three cherries in a row were a win symbol that you won the lottery. Hence, cherries have come to represent good luck as a tattoo design.
Eight Ball: a symbol of good and bad luck, the eight ball represents a mixture between fortunes. Tattoo design, the eight ball means 'chance.'
Flaming Dice: casino dice symbolize an unknown future. Depicted with flames, dice represent 'having luck on your side' or a passion for casino games.
Lady Luck: a classic symbol of good fortune and prosperity, Lady Luck is a tattoo design of a beautiful woman sitting amongst dice, cards, and treasure.
Joker: known as the 'wild card' in the deck, the joker can symbolize good fortune or deceit and misfortune as a tattoo design.
Number Seven: also called the 'Magic Number,' Number Seven is considered a lucky number in North America. As a tattoo design, it's supposed to bring good luck to the wearer.
Poker Chips: these plastic pieces determine who wins a game of poker. Hence, poker chips have come to represent a love for gambling as tattoo designs.
The gambling tattoos are symbolic of a lifestyle of someone that flies by the seat of their pants. The true gambler is willing to take risks that others are not, willing to put everything on the line for the sake of that next rush. These folks are not in it to find the end of the rainbow with the big pot of gold, this is more about the thrill of the chase than anything.