Chanel Casino Fashion Show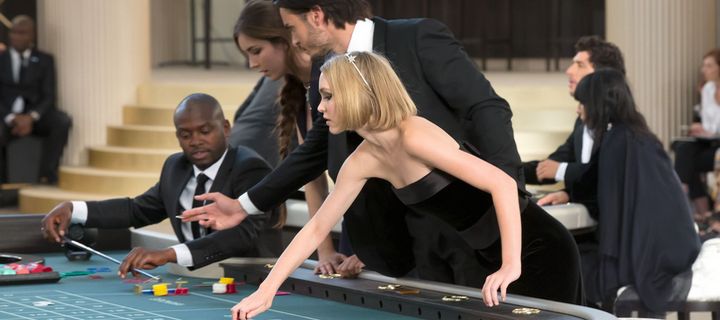 Guests never quite know what to expect when they walk into a Chanel fashion show, especially since Karl Lagerfeld has created a feminist rally, a life-size faux supermarket, a fully-functional brasserie and a sprawling art gallery (filled with Chanel-inspired works) as his sets in seasons past.
During Couture Week, the designer always raises the stakes — pun intended — and for the French label's fall 2015 couture show, he constructed a bustling casino.
Inspired by an Art Deco casino, the celebrity-studded event kicked off in style under the roof of Grand Palais, Paris. The set's grand, modern-deco look featured a raised perimeter around a center floor anchored by roulette and blackjack tables.
Instead of perching in the front row, Lagerfeld's celebrity friends and muses — Kristen Stewart, Julianne Moore, Rita Ora, Lily Collins and Lily-Rose Depp, specifically — opened the show, walking into the casino to try their hands at the Chanel-branded gaming tables that stood in the center of the runway, while slot machine games lined the rest of the venue's walls.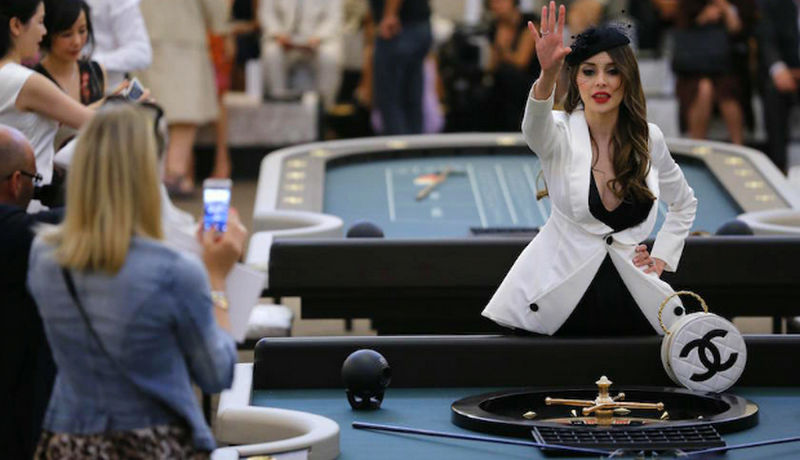 Each high roller diva, dressed in customized Chanel designs and dazzling diamonds, stirred up some action at the central tables.
To a soundtrack that included smooth jams from Barry White, the models — all wearing matching wigs with severe black bobs — walked in looks that meant business: shiny dresses and skirt suits; boxy jackets and blazers; sensible slingback heels and a series of voluminous coats and glittery, textural dresses that were made for the red carpet. Kendall Jenner had the honor of closing the show as the couture bride, wearing a crisp double-breasted white coat, slim trousers and a veil-like shawl that floated behind her. The 19-year-old looked so effortless that we're thinking both traditional and non-conventional brides alike will be adding this to their wedding inspiration boards, stat.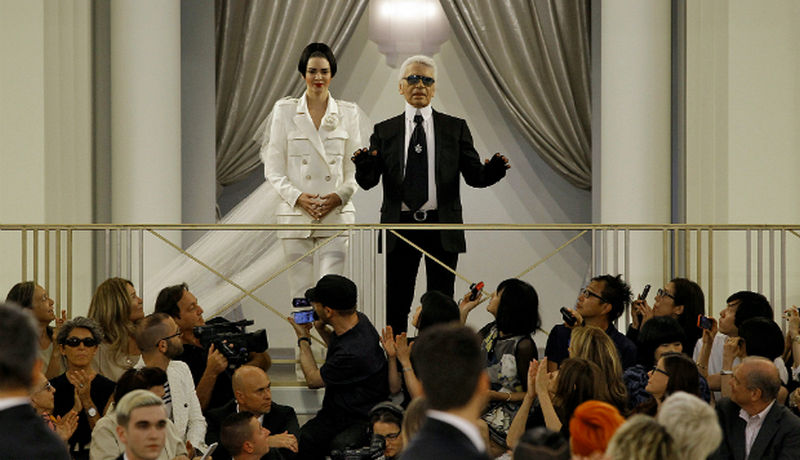 Karl's obsession with modernity reflects clearly in his creations that hit the runway. The legend has made use of 3D printing for a futuristic version of the classic Chanel suit. However Lagerfeld also reverted to more conventional couture methods for the rest of the collection. Models sporting short-bob hairstyles hit the runway to put up the 67-piece collection.