What Clothes to Dress at Famous Casinos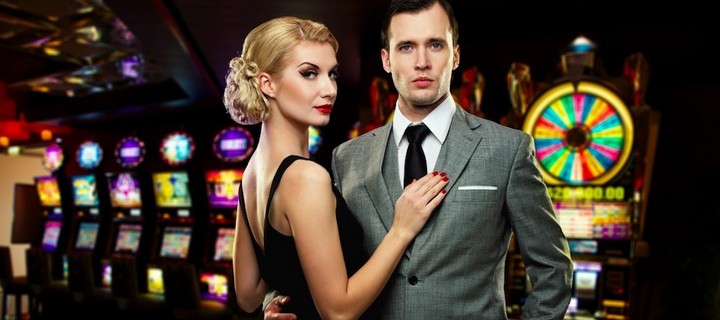 Most of the world's most luxurious casinos will ask you to dress respectfully and avoid wearing overly short shorts or sleeveless shirts. Sunglasses are a big no-no, as are flip flops and Crocs, and it is always a good idea to accessorise well by getting your hair and makeup done and taking a nice handbag to jazz up a simple outfit.
If you're a big-spender, you can probably wear your flip-flops and Bahama shorts to the VIP tables and the casino won't blink an eye. But until you're earning comp'd suites and handing over six-figure checks to the casino, you'll need to abide by the casino's dress code. On this page, we've indicated the basic requirements for casino dress code in the most famous casinos in the world.
Casino Dress Code for The Bank Nightclub at The Bellagio
There's no dress code on the casino floor of the Bellagio, but if you want to play real money in to the casino's exclusive nightclub, The Bank, you'll need to dress the part.
From the website: "… gentlemen should make sure to wear a collared shirt and / or sport coat to The Bank. Always be mindful of wearing nicer shoes and avoid anything that can be considered sportswear: track jackets, jerseys, sports shoes, hats, etc. Remember, if you are unsure if something will work or not, play it safe."
You'll notice there's no casino dress code for women – that's fairly typical. As far as we can tell, so long as an outfit isn't casual and isn't too revealing, they don't care too much what women wear.
Dress Code at ARIA Casino
Real money casino ARIA is one of the better Vegas casino resorts for US players, in part because it's brand new, and in part because it is home to a number of well-reviewed clubs and restaurants. The casino floor staff has been said to frown on the wearing of flip-flops and sandals, especially if they're of the ugly "worn-in" variety, and especially at night-time. ARIA's fine-dining restaurants require a coat, but not a tie. If you're going to stay here, gamble here, or eat here, we suggest you stick to business formal dress code.
Casino Dress Code at Borgata Atlantic City
The Borgata is another example of a real money casino for USA players that doesn't necessarily exclude gamblers if they're not dressed to the nines, but they certainly discourage super-casual clothing. Most of the Borgata's restaurants (Bobby Flay's steakhouse, the haute-Italian Fornelletto, and Wolfgang Puck's American Grille in particular) have a strict "no jeans and no sneakers" rule, so if you plan to eat while you play, you may as well avoid those items. The staff will treat you better at a place like Borgata if you're dressed better, so, again, we suggest you stick to something like business casual or business formal.
Dress Code at Casino Monte-Carlo
In the historic gaming rooms auch as casino Monte-Carlo, only "appropriate dress" is required. That means, according to the website, no "shorts or flip-flops," and nothing more. A pair of blue jeans, a button-down shirt, and sneakers will get you in the door at the famous Monte-Carlo. But the casino's private rooms, where most of the real action occurs, require a coat at all times and a tie after 8 PM. Also, no "athletic shoes" are allowed in these VIP rooms. Planning to gamble at one of the world's oldest casinos? Plan to pack a coat and pair of loafers or dress shoes, and the socks to go with them. If it's getting late, bring a tie.
Casino Dress Code at Venetian Macao
The Venetian in Macao is the world's largest real money casino accepts US players, and one of the world's busiest. A gambling haven for the China's nouveau riche, Macao is becoming an international gambling Mecca, even as the local economy struggles. One general rule of thumb in Macao – don't wear shorts, at any time of day. It can get incredibly hot in Macao, but even then, you shouldn't expect to be allowed in wearing shorts. To our way of thinking, that also means no flip-flops, and you may as well skip out on sneakers. As usual, our suggestion for Macao gambling is a pair of khakis, a button-down shirt, and a pair of loafers.
Dressing to impress means different things in different venues. Now, you can walk into any casino, from Las Vegas to Macau, with confidence, knowing that you're the best-looking gambler in the room.
Here is a summary of the top tips for what to wear to a casino:
Steer clear of sportswear
Don't wear a hat or sunglasses
Men will always be welcome when wearing a suit
Swap your flip flops, trainers or Crocs for closed toe shoes
A nice dress or skirt is always a good choice for a woman
If you do not have the desire to follow the casino dress code, you don't want to go to a land-based casino, you can have fun playing at popular US friendly online casino. In addition, you can play for real money for free using USA no deposit bonuses at real money casinos, that we recommend.
Visit the section "NO DEPOSIT BONUSES СASINO USA" at our website and choose US online casinos with no deposit bonuses for you. Good Luck!