New Film about Poker Game: Molly's Game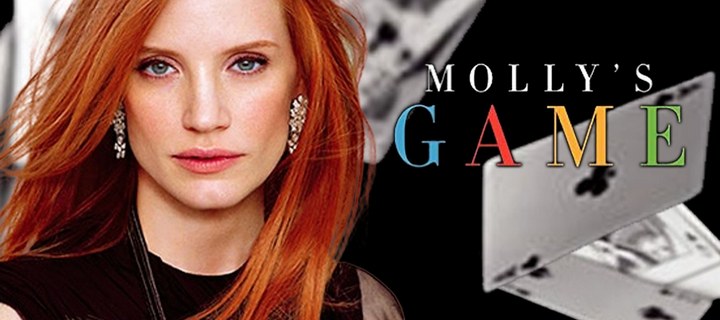 Are you love casino movies? If, Yes, we recomend for you new film: "Molly's Game". A movie that's all about underground high-stakes poker and the woman who ran Hollywood's most exclusive poker rooms, Molly Bloom.
Molly's Game, which is set for general release in November and was met with positive reviews when it was screened at the Toronto International Film Festival, is all about a very secret part of that unseen world.
This true story focuses on Molly Bloom, an Olympic-class skier from Colorado working in Los Angeles, who goes from working as a cocktail waitress to organizing secret poker games to the stars. Working her way from employee to poker room manager, the story follows Bloom's speedy rise, her brushes with the law and her most memorable experiences.
The real Molly Bloom wrote a memoir, also called 'Molly's Game', and the movie takes her insider knowledge and translates it into what critics call a tightly scripted, entertaining production. The casting, even judging solely by the trailer, is also spot-on, with the incredibly versatile Jessica Chastain bringing an intensity and dynamism to the role.
Of course, the most intriguing part of Molly's Game – both the book and the upcoming movie – is who was there. Bloom talks about big shots from the movie, finance, and sporting worlds, as well as billionaires and members of the mafia, Italian and Russian. Celebrities like Ben Affleck, Tobey Maguire and Leonardo di Caprio are all mentioned, as are the astronomical sums that changed hands over the poker table.
In the film, the celebrities' names are changed and their characters are played by… other celebrities. Michael Cera, Chris O'Dowd and Kevin Costner all take a seat at the Viper Room poker table, while Idris Elba plays a hardened attorney involved in Bloom's case.
Molly Bloom was charged with hosting illegal poker games in 2013. She pled guilty and agreed to one year of probation and the forfeiture of $125,000. It's worth keeping in mind that Bloom could easily take home some $4 million per year on her illegal gambling venture. It's that kind of money and that kind of manoeuvring that movie fans are eager to see when Molly's Game is released later this year.
Real money casino, whether they are land-based or online, are exciting. And you don't have to be an expert player to appreciate a well-spun yarn about the thrills of the casino world as well as a peek into part of the realm that we don't get to see – the behind-the-scenes of a massive industry.