Jungle Books - New Online Slot by Yggdrasil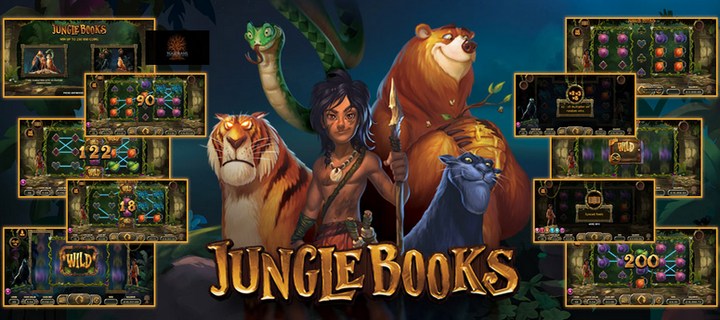 Online casino games provider, Yggdrasil Gaming will release its new online slot game, Jungle Books on September 20th. Video slot game Jungle Books based on Rudyard Kipling's, "The Jungle Book", a collection of stories about Mowgli, an abandoned child raised by wolves and his friends.
Yggdrasil's slot machine game, Jungle Books will take players on an exciting journey through the jungle.
Each character of video slot game is the host of their own realm but they also have the ability to be guests in other character's realms, creating exciting feature combinations. While in their own realm, characters reward players with two bonus features. The new video slot game Jungle Books showcases 45 possible feature combinations, which easily makes it Yggdrasil's biggest and most exciting yet.
The 5 reel, 58-68 payline slots' five characters include Mowgli, who is raised in the jungle by wolves, Shere Khan the tiger, Bagheera the black panther, Baloo the bear and Kaa the python. Each of the five characters has two individual bonus features. Each character acts as host in their own specific realm where both of their features are active. Each of the characters takes its turn hosting the reels throughout the game.
At any point, the host's realm can be joined by other characters, and when they do, they bring one of their bonus features with them. Once a guest arrives, it remains in the hosts' realm for a minimum of 3 spins. Periodically, the realms change and the host of the last realm visited will become a guest in the new realm. If there is a guest present when the hosts and realms change, the new realm has to be a different character's not the current guests.
Slot machine game Jungle Books will launch on Yggdrasil's new and improved HTML client framework iSense2.0+ and can be played on all compatible devices including tablets, notebooks and smartphones.