Moto GP Silverstone Experience at VideoSlots Casino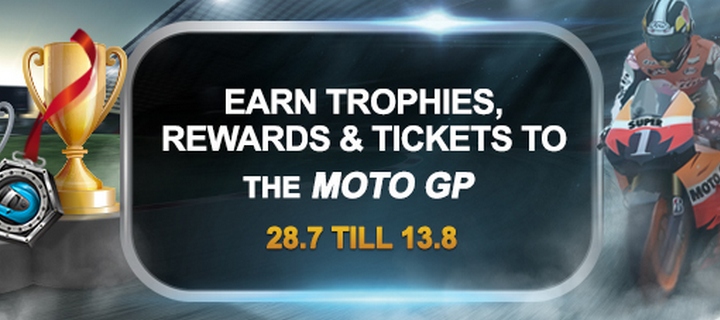 At real money casino VideoSlots you can participate in a virtual race that could land you and a guest an exclusive Moto GP Experience.
The mission is simple, all you need to do is collect one or more of the 17 trophies on offer to get your hands on some serious giveaways. Don't let the daily rewards fool you, they might be spectacular but the main prize is what this race is all about.
There are 17 Trophies waiting to be collected and to get your hands on them you need to log in to VideoSlots Casino daily to complete a task. Each day you will be given 1 objective which is mainly to play a certain amount of spins on 1 particular online slot game.
For example, on the 31st of July you need to play 300 spins on the Pharaohs Wild slot to get your hands on the Chapel Curve trophy as well as 6 raffle tickets.
Each time you collect a trophy your reward for the day will be revealed.
The daily rewards include cash prizes, Reload bonuses, Casino Race multipliers and Weekend Booster Multipliers.
To be eligible for the main prize draw you need to complete at least one trophy achievement throughout the campaign. Each trophy quest you complete will leave you with one of the daily rewards, a trophy and a number of raffle tickets. The raffle tickets are entries into the main prize draw. So, if you have your heart set on that once in a lifetime Moto GP Experience then your objective is to collect as many trophies and raffle tickets as possible.
Apart from the daily rewards you can claim, you are fighting to get your hands on the Moto GP Package. It's a once in a lifetime rewards that will leave you with unforgettable memories.
The winner of the Moto GP Package will receive 2 VIP passes to the Silverstone Moto GP. The will also receive Paddock passes that comes with an exclusive tour of Sam Lowe's garage. The winner will get to meet the entire team and get to take photos with Sam. The package also includes a Lunch with Team Aprilia, grandstand passes to watch the races, a 2-night stay in a 5 star hotel as well as flights from any Europe destination to the UK.
The Moto GP Silverstone Experience will take place in the UK from the 26th to the 28th of August. Time is running out and the race is a rewarding one so head over to real money casino VideoSlots to start winning!