Poker Player Charlie Carrel Tells British TV How He Became a Millionaire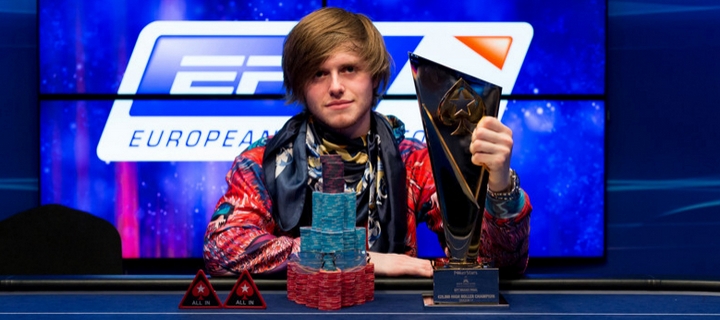 Charlie Carrel was a quick study in math and an even faster student in learning how to be successful at poker. In four years, he has managed to amass more than $5 million after starting with an initial stake of $12.
Charlie Carrel transferred his math skills to poker and turned $12 into more than $5 million before his 23rd birthday.
How far the game has taken him has surprised even the UK resident. He was featured Monday on a British television show called How'd You Get So Rich?, where he looked back on his path to good fortune. Ironically he isn't fixated on the money. In fact, the young millionaire told the show's host that the wealth makes him a bit uncomfortable.
"I would probably never buy an expensive car because I don't think I could ever justify it to myself," he said.
Child Prodigy
The 23-year-old began his career 15 years prior, as a numbers-obsessed boy in London, first analyzing the game that would soon rule his life. He was bullied in school because of his aptitude with calculations and formulas. That experience taught him to hide his emotions, a trait that has served him well at the tables.
Cramming on the game became almost an obsession and his math expertise definitely helped. When he turned 18 he began playing online and was in front of the computer for hours.
"I had no life for a very long time," he said. "For about eight months I was playing 16 hours a day, seven days a week."
He was going to the UK's University of Warwick, but decided to drop out to devote his life to cards.
Impressive Tournament Resume
Like most beginners, the novice started playing online poker, where he had immediate success. And the cashes kept coming when he transitioned to live action.
His first tournament victory was shortly after his 21st birthday, when he won the No Limit Hold'em Main Event Grand Final 2014 on the Grosvenor UK Poker Tour. Six months later, he took a competition in Monte Carlo and walked away with $1.2 million. He has claimed two more top prizes as he closes in on $6 million in career earnings.
Life has been exciting for Carrel since, as he's traveled the world and even had a few brushes with danger. On March 25, he was at the Bellagio poker room when armed gunmen tried to rob a jewelry store. He and a friend had to run out of the casino, but posted on his Facebook page that he was safe.
Real Money Online Poker for USA Players
Choosing to play poker online for money is simple – once you know what to look out for. This page covers everything you need to know on playing poker online in the US. We break down how to find a safe and easy to beat poker room, and rank the best casino sites to play online poker for real money in the United States. This includes poker sites like Bovada Poker, Ignition Poker & America's Cardroom.
Before you jump into a US real money poker game, though, here are the key factors to consider:
Site Safety: Choose licensed, trusted and tested rooms
Game Selection: What choice of games are available, and at what buy-ins?
Bonuses / Rewards: How well will your play be rewarded?
USA Friendly Poker Site: This depends on which state you are playing from.
These days, the biggest and best US poker rooms are based offshore. They are licensed by their host country, and welcome players from all over the world – including the USA.
You can also find smaller in-state poker rooms. Four individual US states currently provide regulated online poker rooms, namely Nevada, Delaware, New Jersey and Pennsylvania. Games are shared between players from the first three states mentioned, with the US poker market expected to grow as more states start to offer regulated online poker for real money in the future. Likely contenders include such states as West Virginia, Maryland, Missouri and New York.