Poker Table for the World Poker Tour's for $ 75,000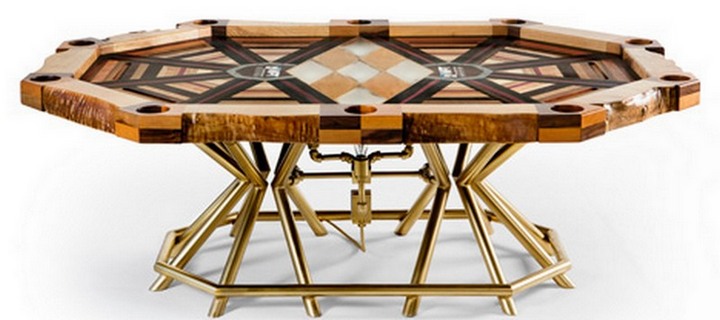 The beginning of this ambitious project was a deal between Akke Functional Art and World Poker Tour Enterprises. Owner of Akke, Axel Yberg, designed and constructed a poker table. The result is arguably the most inspired, incredible, beautiful, and expensive custom poker table in the gambling casino world.
Axel called his poker table the name "All-In". On a personal level, it symbolizes the fact that when he commits to something, he gives it everything he's got; mentally, physically, and emotionally.
"When I'm excited about an idea, the first thing I say is, 'I'm all in!'"
"All In" required over 600 man-hours of labor to create. The surface was constructed using fifteen species of exotic wood (including: Madagascar Ebony, Rosewood, Purple Heart, Zebra Wood, Wormy Maple, English Brown Oak, Black Locust, Claro Walnut, Quilted Maple, Sycamore, Cherry, Catalpa, Black Walnut, Quarter-Sawn White Oak, and live-edge Ash). The base was fabricated with gold-painted plumbing pipes and fittings, and Edison Reproduction Light Bulbs.
The vectors that bisect each angle on the perimeter of the table are made from Madagascar Ebony and Rosewood. Their colors, black and red, represent the suits in a deck of cards. This idea is carried into the turnbuckle drink holders, which are designed as a quadrant of Black Walnut and Cherry. The five diamond cutouts in the center of the table are a nod to the legendary Doyle Brunson and the WPT Doyle Brunson Five Diamond World Poker Classic. And of course, the gold pipes that make up the base represent the bling associated with Las Vegas.
Many real casino can only dream of such a table.
Axel said:
This poker table wouldn't exist if it were not for the generosity, excitement, and total belief in me that I received from my good friend Matt Gai and his wife Jenn. They funded this table (and it was very expensive). I am extremely thankful for this. In addition, Matt, an avid poker player, was instrumental in consulting with me regarding the necessities of creating a functional poker table.
Cost of the table Akke Functional Àrt is $ 75,000.