90 Playing Casino Tattoos – Lucky Ideas, part 3/3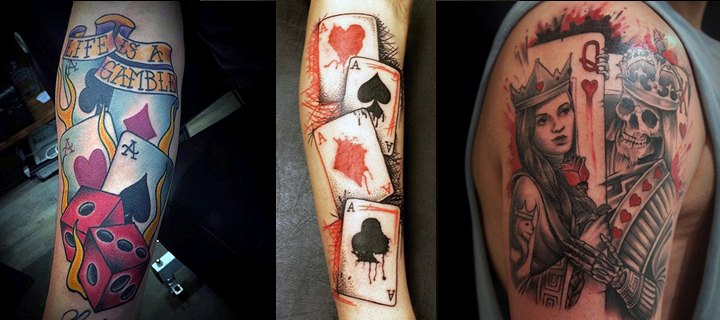 Сontinuation, see also:
90 Playing Casino Tattoos – Lucky Ideas, part 1/3
90 Playing Casino Tattoos – Lucky Ideas, part 2/3
The tradition of ornamenting the body with symbols came to us from ancient times. Tattoos protected, told everybody about the fate of their hosts and attracted luck. Each ornament had its destiny and was closely connected with spiritual world of their host. The tattoo application was always connected with pain and it was considered that pain strengthened the spirit.
It is not surprising that Japanese mafia Yakuza totally covered their bodies with different picturesque tattoo designs. Gamblers also became faithful followers of tattoo application – their superstitious nature found its way to gambling tattoo designs representing symbols of luck, elements of gambling and different protectors on their bodies. The most popular gambling tattoo designs have always been four-leaf clover, stars, card, card suits, dice. These symbols not only brought luck to the player but also could reveal what games the player went for and liked the most.
Especially popular are the gambling tattoos representing dice. It became the symbol of risk, gambling. The meaning of such gambling tattoo is not understood in the end, that's why it can be understood relatively easy and has the most sacred meaning only for the applicant.