How to Cash Out Winnings at Online Casinos for Canadian Gamblers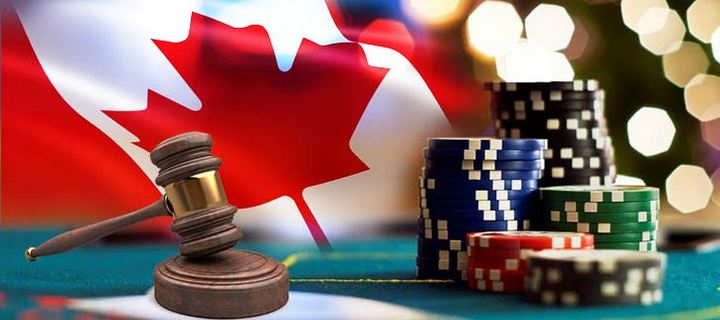 Every online casino has different policies, procedures, and expectations but the reality is that, in terms of what you really have to do, most are nearly identical. Let us show you how easy it is for Canadian players to cash their winnings out, which fast cashout options you should use, and even learn about the tax situation for gamblers.
Cash Out in Three Steps
Step 1: In order to cash out winning, open your casino's software and navigate to the cashier, where you originally deposited your money.
Step 2: Select the option to make a casino withdrawal and choose your preferred deposit option.
Step 3: Give any personal/billing info that online casino need, and click the "Withdraw" button at the end to submit the withdrawal.
Just be aware, though, that there are some points at which you may get stuck. Before you even attempt, to make an online casino deposit you must decide which withdrawal options is right for you.
Top Online Casino Cashout Options
Most premium Internet casinos will offer you lots of online casino cashout options, but not as many as you can use to deposit funds. For this very reason, before ever selecting a casino, make sure they have a cashout option that works for you - even if you see that your favourite deposit method is supported. Out of the current cash out options available for Canadian Internet gamblers, let's start with the newest ones.
eWallet - one of online casino cash out options
Modern services like EcoCard and Skrill are collectively known as eWallet services because they let you store money in an online account - like an electronic wallet - ready to spend, save, and retrieve whenever you feel like it. The big names are all very popular, safe, and effective, not to mention fast.
In most cases, these online accounts are linked with your checking account. You can seamlessly move money between your land-based bank and digital account, where it can be used in conjunction with your online casino. Withdrawals to eWallet accounts generally take 2-3 days before the money appears in your eWallet account, and you'll need to allow a few more days to pull the funds down to your bank.
Luckily, though, services like this provide a great buffer between online casinos and your personal bank account, which make them ideal for privacy and safety reasons.
Withdraw winnings from online casino via credit cards
Credit card casino cash outs are relatively straightforward. Just give them all of the same billing/card information that you provided to make your credit card deposit, and let the process work in reverse. These can be processed in less than a week in some cases, and they're extremely safe, due to the considerable protections offered by your credit card company. Note that MasterCard can no longer be used to withdraw funds from your online casino account, though other brands like Visa are still quite useful.
Withdraw winnings with Wire Transfers
Wire transfers have become the de facto withdraw option for most US online gamblers out of necessity, and many Canadians enjoy the same benefits. You need to trust your online casino to make a transfer of this kind (since it requires you to share your bank account information). However, by cutting out the middle man, your casino money will arrive directly at your fingertips within about 5 to 10 business days. Using wire transfers to withdraw winnings from web-based casinos is ideal especially if you used a deposit option that cannot be used for withdrawals, like MasterCard, and it should be an option no matter where you live!
Withdrawal request and physical cheques
This is one of those long standing online casino cash out options that proves that, on occasion, newer really isn't better. Cashing out of an Internet casino site via cheque works no matter what technical limits you may face, and there really is something to say about the experience of receiving a freshly cut paper check with your winnings - you can't frame a wire transfer! Expect a few days for processing, and then a few more for delivery.
What You need to cash out at online casino
Don't be surprised, after you fill in the withdrawal forms and give all of the information they ask for, if your online casino needs a little bit more information before sending any cash your way. These sites often ask for scanned/faxed copies of recent utility bills, drivers licenses, and other documents that show your current address in order to help prove that you really are who you say you are. In fact, for any significant withdrawals, this is always going to happen.
Identification policies like this might sound excessive at first but think about it. For a casino that never actually meets you, these precautions help to keep you safe from fraud and identity theft, and most legal, regulated casinos have to embrace procedures like this to keep their governing bodies from hassling them. Also, once this information is on file, you should be able to withdraw from that online casino whenever you want in the future - no questions asked!
Canadian Gambling Taxes
Canada does levy taxes on gamblers, but only in the very specific situations in which their winnings can be considered a form of business income. That means that you were "working" for it, and that your winnings represent a substantial part of your income. Professional gamblers fall into this category for sure, and there is a massive grey area for gamblers like poker players and sports bettors that have to use a lot of very specific strategies.
However, for winnings earned from casino games (as well as other games of chance) you're excluded from paying taxes on your winnings in Canada due to the "right to a prize," which actually exists on the law books. If at any point, you find yourself really earning a living as an online casino player, we'd recommend that you take some a bit of your bankroll and use it to speak with a lawyer who can help you navigate the murky legal waters as you approach the domain of professional Canadian gamblers.
Tips for cash outs
Always look for online casino withdrawal methods that don't charge you extra for cashing out. There's no point scoring a big win and then handing over a huge chunk of it to your bank or eWallet. The best withdrawal methods are free, and these are the ones we prefer and try to recommend for you.
The faster you can have access to your cash, the better. Cashing out should be speedy and easy so find out how long your withdrawal method of choice takes before you use it.
Make sure that you use a service that practises top of the range online and fiscal security. Use trustworthy services with fraud protection policies to make sure your money stays yours.
Choose a service that works for your lifestyle. Perhaps you'd like to keep your personal details separate from your online gambling. Or perhaps you'd want one without a daily withdrawal limit. Do your research and make the choice that's right for your gambling habits.