Creation History Popular Game - Baccarat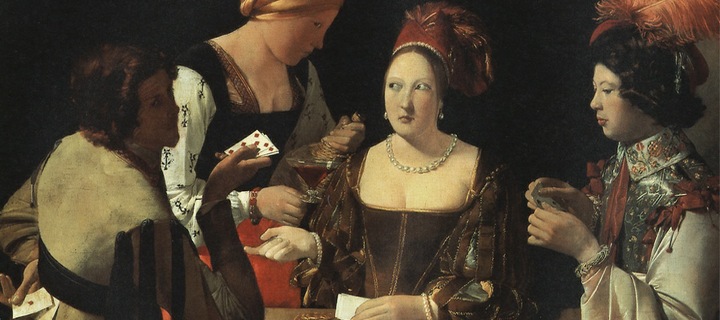 Baccarat name
"Baccarat" translated from Italian and French means zero. Today there are many debates pertaining to the origin of the game and each country wants to claim it.
Origin of baccarat game
One of these versions: the game was first invented by an Italian gambler Felix Falguierein in the middle ages and first was played with a deck of Tarot cards.
Another version: it may have come from the ancient Roman ritual of a vestal virgin casting a ninesided die to determine her fate. If she rolled 8 or 9 she would become a high priestess, 6 or 7 meant her vestal virgin status was revoked, and any other result required her to walk into the sea and drown.
Later, the baccarat was introduced in France around 1490 A.D. and remained an exclusive game to the French nobility for some time before becoming a real money casino game.
The first mention of Baccarat in the English language is from the Daily Telegraph of 13 January 1866 and the game quickly became popular in England and the USA after that time. The notion of Baccarat being a high-class game continued and when Ian Fleming wrote the first James Bond book, Casino Royale in 1953, the entire plot is based around an extremely high-stakes game of Baccarat. Bond plays Baccarat regularly and there is no doubt (in the books at least) that he is from the upper echelons of society. The villain of the piece, 'Le Chiffre' chooses Baccarat however, because the stakes get high very quickly and he needs to raise money in a hurry. At the start of the 21st century, the film of Casino Royale replaced Baccarat with Texas Hold'em Poker - a sign of the times if ever there was one.
Evolution of baccarat rules
Even if we do not care whether it was invented in Italy or France, the game of Baccarat is a very old game. Traveling through countries and continents for centuries it was acquiring different rules variations.
Today we can find the game in every part of the globe, but in the beginning, the French variation of baccarat "Chemin de fer" become popular in England, where they changed the rules of the game Baccarat and name of the game for "European baccarat". Then, it spread to South America.
Baccarat in America
At the end of the 19th century baccarat appeared to America. In America, the game was brought French and British citizens. But this game was not popular, it is not able to compete with the favorite game of many players - blackjack. It was time when blackjack was really extremely popular in America and it was played everywhere there, so poor baccarat had no chance to win this struggle for popularity.
Anyway, baccarat came to Cuba, got the name Punto Banco and stayed there till the 1950's; Tommy Renzoni, a casino player and writer, brought baccarat to Las Vegas where its rebirth began! The rules and name of the game (Punto Banco) were decided to stay the same and the third popular baccarat variation - North-American baccarat - was born.
Americans liked the game very much and were so excited to play it that they began to create some new variations of baccarat; one more popular baccarat variant - Mini baccarat - was soon born in such a way. Anyway, two original baccarat games were not forgotten because Europeans were not in a hurry to accept a new baccarat game and continued playing Chemin de Fer and Baccarat en Banque in casinos. That is why today almost all casinos provide its visitors with all three baccarat variations to choose from.
Although a few rules have been changed in every country, the style has remained the same. It has kept it's elegance and is still one of the most appealing games to the high rollers and individuals with high social standings in every society.
New types of baccarat
In order to popularize the game, Mini baccarat was invented. It has the same basic rules as American baccarat, but the lower table limits and simplified procedures attracts players with average bankroll. And today, even if you are not a "high roller" you can enjoy the odds of classic baccarat.
Baccarat today
The history of baccarat game is not finished yet: the game continues to develop and give a joy to all its fans. The most recent development in baccarat history is online baccarat. With the era of the Internet the new chapter of baccarat life had begun - today more and more gamblers prefer to play this game online both for fun and real money; so, all online casinos are glad to represent you different baccarat variations to choose and play without going anywhere. Easy search, nice bonuses and quick access make online baccarat to be among the most popular and loved casino games.
Online casinos offer mini baccarat tables using the standard American rules. The cards are dealt using a random number generator or RNG and displayed as graphics on your screen. Some online gambling sites also offer live casino dealer where you are connected to a video link of a real dealer dealing cards.